NethServer Version: 7.3 RC3 (updated to latest updates_
Module: nethserver-base
Folks, doing the a production installation for Nethserver. Everything seems to be going as expected (I did report a firewall addition needed for what most people believe is normal VPN behavior). I installed the machine to use RAID 10 for the root and swap partitions on 6 drives. All installs and works as expect. If you look at the provided screen shot you'll see md126 and md127 reported as RAID 1 with 6 drives).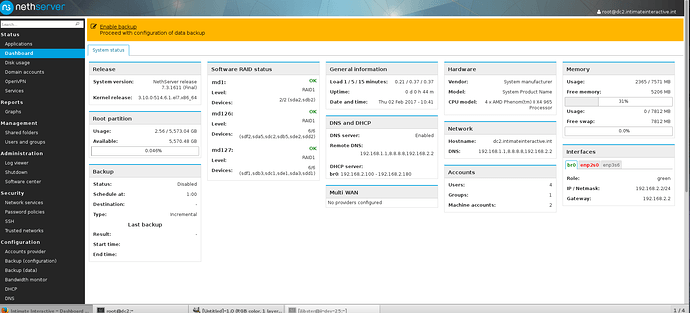 Here is the output from my cat /proc/mdstat:
Personalities : [raid10] [raid1]
md1 : active raid1 sda2[0] sdb2[1]
1048512 blocks super 1.0 [2/2] [UU]
bitmap: 0/1 pages [0KB], 65536KB chunk
md126 : active raid10 sdf2[5] sda5[0] sdc2[2] sdb5[1] sde2[4] sdd2[3]
5845847040 blocks super 1.2 512K chunks 2 near-copies [6/6] [UUUUUU]
bitmap: 13/44 pages [52KB], 65536KB chunk
md127 : active raid10 sdf1[5] sdb3[1] sdc1[2] sde1[4] sda3[0] sdd1[3]
7999488 blocks super 1.2 512K chunks 2 near-copies [6/6] [UUUUUU]
Is this a simple parse or CSS error? Anyway, it should probably get fixed soon as this could confuse people when looking at the summary screen.