NethServer Version: 7.6.1810
Module: LDAP
Hello, everyone, I'd like to describe my current configuration:
Zentyal v 6.0.1 domain server with several PC-Servers- and connected users
domino name= maui.lan
host name= maui-srvdc
administrator user
ldapuser user ( with administrator rights ) _
various domain users
192.168.1.*** network
Nethserver mail server v 7.6.1810
installed modules email - webtop - POP3 connector
domain= mauitech.eu
server name= posta.mauitech.eu
192.168.1.*** network
I configure the connection " active directory - join to a domain " to the domain server Zentyal maui-srvdc.maui.lan, I provide the credentials of the server DC Zentyal using the user administrator, the join was a successful. Users are uploaded from the DC Zentyal to the nethserver mail server, and the mail server is added to the machines seen by the domain controller. _
I am asked for credentials for ldap applications and I provide the same administrator credentials provided for the joint, but nethserver returns me an error of "incorrect LDAP credentials".
_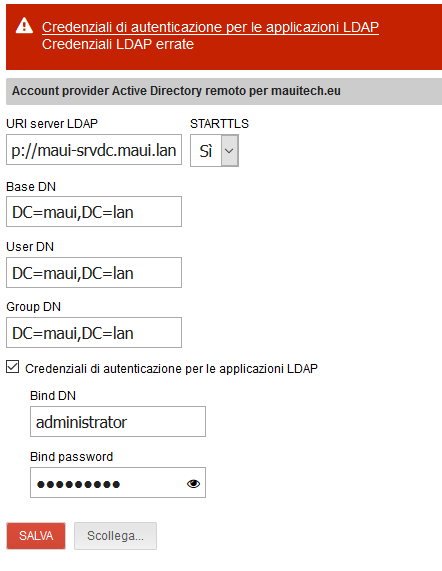 _
Other tests carried out
Created another user with administrator rights in the domain server, but when I use it for bind I get the same error from nethserver.
Tried both with STARTLS set to ON and OFF with the same error result.
Finally I tried to use a test server, domain microsoft server 2016
name domino= be****.local**
host name= serve*****
administrator user
nethserver performs the BIND correctly.

How can I solve the problem of BIND authentication with the domain controller Zentyal.
Thank you