Moin Moin,
long time ago…, because everything works fine - despite my destructive ignorance!
Ok, there's no panic, but I do not understand the size of my backup. First I choose delete full Backup after 4 Weeks. But after after 3 Month the size of the backup started to get greater and greater! I do not know how much the incremental backup creates overhead! But my data-size is:
SourceFiles 62057 SourceFileSize 136478609155 (127 GB) NewFiles 277 NewFileSize 2550067 (2.43 MB) DeletedFiles 1 ChangedFiles 123 ChangedFileSize 77251242 (73.7 MB) ChangedDeltaSize 0 (0 bytes) DeltaEntries 401 RawDeltaSize 34156388 (32.6 MB) TotalDestinationSizeChange 5841942 (5.57 MB) Errors 0
and
the result today:(even I did changed to delete full Backup after 2 weeks)
Disk Usage:
Size Used Available Use%
1.79 TB 1.04 TB 679.20 GB 57.88%
Here my settings: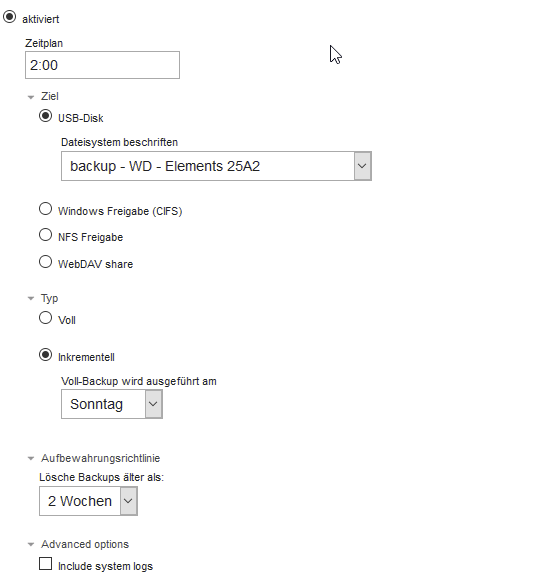 Is ther anything I could check?
thx for response
martin