Hi, I have a question concerning backup and of course restore. I coming from SME, I was using workstation backup on external USB disk, worked well for me. Now with NS 7.9 (installation physical server) I have chosen Duplicity engine, which looked the most close option to SME experience, with full backup and daily incremental backups.
Now, the main question I have, if I don't change anything from the excluded and included paths as on the picture will it make a backup which I can eventually restore to freshly installed NS 7.9 and get all users, mails and configurations?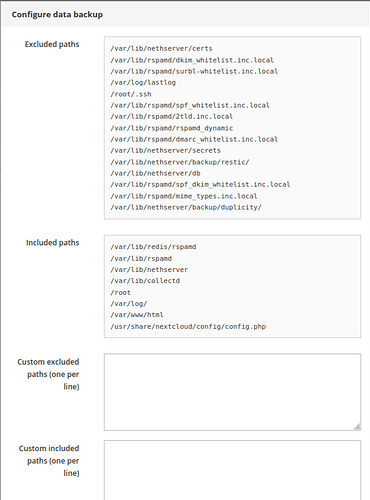 I do understand that there is configuration backup and data backup. For the disaster recovery restoration I have to follow these steps (my understanding from the documentation):
Fresh install of NS 7.9, update it
Restore configuration backup (with Restore network configuration and Reinstall packages enabled)
Restore data backup (in my case from Duplicity engine)
After these steps I should end up with fully configured server and all the user data (accounts, mails etc.).
In case I need to restore only certain files from the backup, this option is also available and I can do it from the backups.
I will for sure test it on VM as well, but just to know whether this is correct understanding. I have read it about backups and snapshots with and within Proxmox VE, but that would be for next opportunity.