I've got a 4tb HDD to backup my nethserver.
I had it configured and working well but we had an electrician around to test the circuit breakers, unfortunately I didn't have my server plugged in to the ups.
When I booted it back up the Raspberry Pi was trying to boot from the backup drive instead of the nethserver SSD (if I unplugged it and rebooted it worked fine but if I plugged it in again it would get reassigned and cause the Raspberry Pi to crash).
I decided I would fix it the next week (and completely forgot about until I tried to restore a backup).
So Ive fixed the mounting and set fstab correctly on reboot the drive shows up in the storage part of settings on cockpit Im able to erase and remount in via nethgui or cli (ive got it mounted to /mnt/backup) I can write to it and on reboot it mounts fine and is still writable.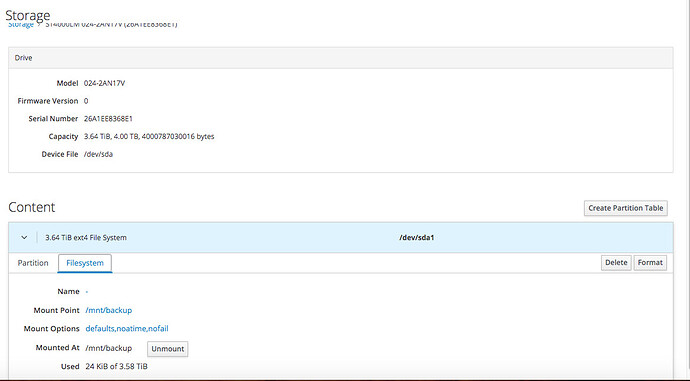 Problem is when I go to set the backup again nothing shows in the devices