NethServer Version: 7.9.2009
ejabberd: 1.8.4 (as of April 23, 2021)
** Nextcloud** 20.0.9 (as of April 23, 2021)
Hello @support_team,
I'm interested in bridging my ejabberd with my Nextcloud Talk. We use ejabberd in our Webtop App and I'm hoping to rollout Talk (in Nextcloud) to other employees in our office that do not use mail (do not have access to Webtop). I'd like to have both groups of users still be able to send/receive messages between buildings.
I have installed Nextcloud and ejabberd on my Nethserver. In Nextcloud I've installed matterbridge and I've selected the XMPP/Jabber option in Matterbridge from with Nextcloud Talk. I have questions about how to fill in the fields for XMPP/Jabber in Matterbridge. Nothing I try is working:
XMPP/Jabber server URL:
Question #1:
I've tried https://localhost:5222 and I've tried a domain URL I've created in my HAProxy that points to my nethserver IP. Should I use localhost with the port 5222 since my Nextcloud and ejabberd live on the same (Nethserver) server?
Question #2:
Whichever URL I try I receive an error in the matterbridge log that sayd that I have too many colons in my URL? Any idea on how to get around this error? Maybe I shouldn't use this GUI and I need to add the URL to the config file itself? Any ideas where the matterbridge config file lives on Nethserver > Nextcloud?
MUC server URL:
Question # 3:
Do I need to add this URL?
Channel:
Question #4:
What is the default channel name setup in ejjaberd on Nethserver? I didn't create a channel so perhaps ejabberd creates one automaticaly? Do I need to have a channel listed in Matterbridge?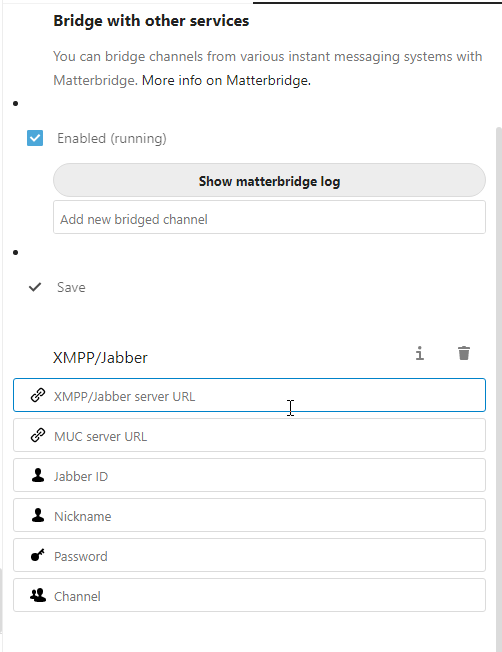 Any help that can be provided will hopefully help others with this setup and would be greatly appreciated by me!
Thank you.