Hi,
today I installed a module of Nethserver I didn't used before: Mailserver.
I support a company in IT and they need a mailserver because their current provider, an ISP, don't has the option to automatically add legal notes to all send mails.
I was happy do find this option in Nethserver assuming that it will work for all E-Mails that are send by this mailserver (via Roundcube, via Outlook/MailClients, via Smartphones etc.).
After I setup the Mailserver including only the Roundcube module (what are the others??? There is nowhere an explanation!), I configured the two domains we will use.
I activated the Checkbox "Append a legal note to sent messages" and entered a test-text.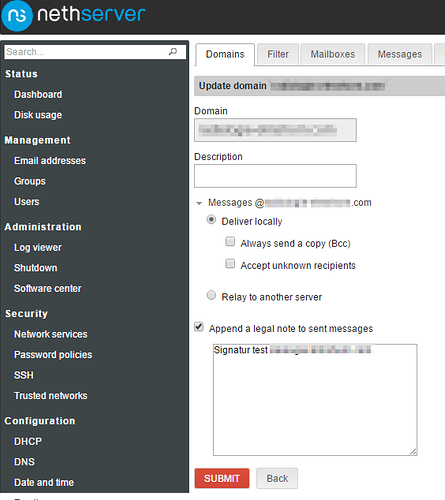 After that I set the admin-password and added a new user for testing.
I logged in with that user on Roundcube and send a Mail to my personal address. I received it but without signature.
Are there any other dependencies or is it a bug?