The date reported in topic was a sunday.
Around 4:00 CET i woke up, I did not know why. Maybe my body already perceived something from early waves. Or i was just… thirsty.
Anyway…
04:03 first shock arrived. 5.9 Richter, 6.3km deep, ad took some things with that. Than a phenomenon defined "seismic swarm" started, and took its time to develop.
20/05 was the first one, but not the only one.
29/05, 9:00 CET 5.8 Richter; same day, 12:55 5.5, 13:00 5.0, then 4.9; 31/05 16:58 4.0 Richter, 21:04 4.2
The last tough one was 3/06, 19:20. 5.1 Richter.
Italy was quite lucky. Despite the large area involved into earthquake, (compared with the size of the country), few people died or soffered injury. As far as i can remember, less than 50 take the leave.
About buildings… that's a whole other story.
This was the status of town hall in S. Agostino, a small town of Terre del Reno, near Ferrara.
![](image)
Bulding was historical, now there's a mix between a park and a square. No rebuild or repair for that.
After saving some oldies…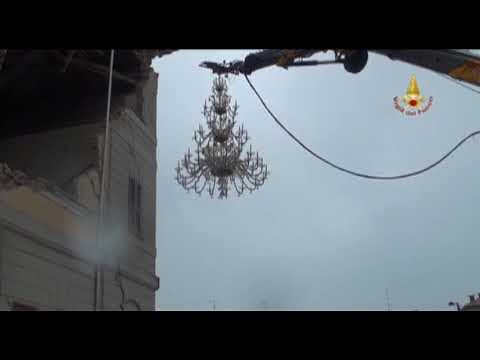 decision of demolish was taken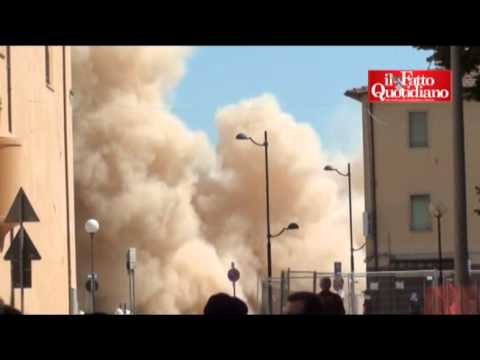 A lot of churches take hard hit too. You can believe or not in Catholicesim, that's not the point… churches are big part of heritage about art and history into my country.
Houses, company sites, sheds, warehouses, plants. And cellars for wine, vinegar and cheese, some premiums specialties from Modena, Reggio Emilia, Bologna, Ferrara.
Lots of broken cheese shapes were damaged, fine Parmigiano Reggiano, Grana Padano and so more.
A lot of people bought this otherwise unsellable product to help wineries, vinegar factories, dairies and so on.
I'm not that proud everyday about my people or my country. But oftenm when things get wrong, Italians are know show some Master Degree in advanced "Let's Get It On!" procedures.
I mean… Before the "50 states" takeover of F1, XO of Mr Ecclestone has been for decades an italian guy, Pasquale Lattuneddu. According to Paolo Ciccarone, Ecclestone explained why:
"I'm aware that if I put in charge some french or swiss person, a lot of bells and whistle could be a lot nicer, symmetrical, pleasant. But when something goes wrong, Pasquale always known in seconds who to call, what to say, asking the right thing to the right person. For any issue, Pasquale has a fast and good enough answer. A swiss guy would waste hours in shock" (don't quote me on that, it was a summary of what Mr Paolo Ciccarone said about that).
Workplaces firsts, than the school and houses, then churches. Ten years after still some scars are here and there. Few years before eartquake, a mud flood took hard hit on Genova, and people answered "Non c'è fango che tenga" (something like "be sure that mud is not gonna stay"). Emilia Romagna answered "not gonna give up" like that: in few months, lots of companies were already working.
As said during tough COVID days, humanity should play more like a team. Because results can be astonishing.