NethServer Version: 7.0 final
Module: VPN
Dear Nethserver team,
I just installed nethserver (NS) 7 final the other day from a centos 7 minimal.
All went smooth, with one exception.
I have a small nuc sitting behind my router at home. The nuc is running the NS. The NS has one NIC and is connected via cable with the router. The IP address of the NS is 192.168.1.100. The router ip is 192.168.1.1.
For different reasonsI want to be able to route all my traffic through my home installation when I am abroad.
I set up a vpn service on the NS and login works like a charme. I was really impressed.
The IP net of the vpn is 10.0.0.0 255.255.255.0.
The client recieved 10.0.0.6.
The external VPN client can reach the NS at 192.168.1.100. But it can not reach (not even ping) the router @192.168.1.1. It also cannot ping google @8.8.8.8.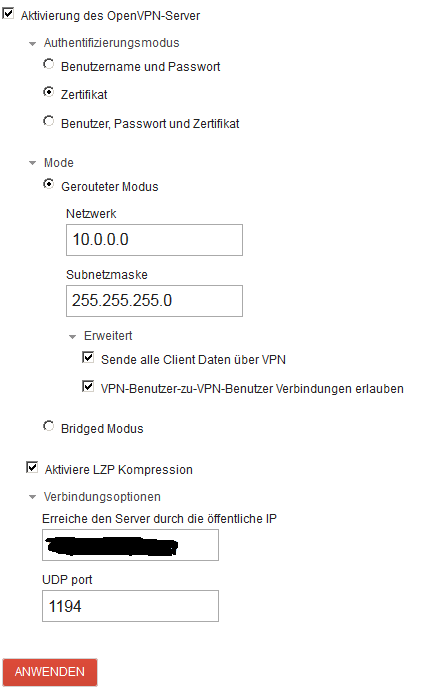 I have checked the "send all traffic through vpn" box.
I am not running a DNS, gateway or firewall on the NS. (no that I know of)
Here is my client config

######### NethServer OpenVPN client configuration #########
dev tun
client
remote there.be.dragons
port 1194
float
# Authentication: certificate

-----BEGIN CERTIFICATE-----
******
-----END CERTIFICATE-----


-----BEGIN PRIVATE KEY-----
******
-----END PRIVATE KEY-----


-----BEGIN CERTIFICATE-----
******
-----END CERTIFICATE-----

comp-lzo
explicit-exit-notify 1
verb 3
persist-key
persist-tun
nobind

I don't see the server pushing some sort of routes to the client. Isn't that required?
Help is much appreciated.