NethServer Version: 7.5.1804 (final)
Module: mail
Hello to all,
Today I executed the pending updates on my Nethserver installation, it had mostly to do with the emailserver. During the update there were several errors in the messages logfile concerning the rspamd service mainly "fragment generated warnings". Also, in the filter tab of the email configuration the three checkboxes are not selected and if I do and activate the same fragment warnings appear in the log and the checkboxes are deselected again.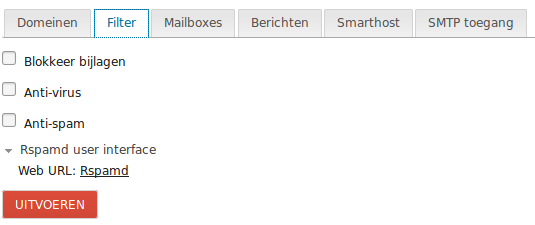 Sorry for the Dutch interface language above

Below I included the loglines from the initial update. What went wrong here and how can I solve it?
Greetings, Wijnand.
Oct  6 15:40:27 server1 yum[1003]: Updated: nethserver-mail-common-2.3.0-1.ns7.noarch
Oct  6 15:40:29 server1 yum[1003]: Installed: nethserver-mail-filter-2.3.0-1.ns7.noarch
Oct  6 15:40:31 server1 yum[1003]: Updated: nethserver-sssd-1.4.2-1.ns7.noarch
Oct  6 15:40:33 server1 yum[1003]: Updated: nethserver-mail-server-2.3.0-1.ns7.noarch
Oct  6 15:40:35 server1 yum[1003]: Installed: nethserver-mail-getmail-2.3.0-1.ns7.noarch
Oct  6 15:40:36 server1 yum[1003]: Updated: nethserver-dc-1.5.6-1.ns7.x86_64
Oct  6 15:40:38 server1 yum[1003]: Installed: nethserver-mail-p3scan-2.3.0-1.ns7.noarch
Oct  6 15:40:38 server1 yum[1003]: Updated: nethserver-mail-disclaimer-2.3.0-1.ns7.noarch
Oct  6 15:40:39 server1 yum[1003]: Updated: php-kolab-net-ldap3-1.0.7-2.el7.noarch
Oct  6 15:40:40 server1 yum[1003]: Updated: nethserver-lang-en-1.2.15-1.ns7.noarch
Oct  6 15:40:41 server1 yum[1003]: Updated: nethserver-mail-smarthost-2.3.0-1.ns7.noarch
Oct  6 15:40:45 server1 yum[1003]: Updated: nethserver-lang-nl-1.2.15-1.ns7.noarch
Oct  6 15:40:45 server1 yum[1003]: Erased: nethserver-getmail-1.0.4-1.ns7.noarch
Oct  6 15:40:47 server1 yum[1003]: Erased: nethserver-p3scan-1.1.3-1.ns7.noarch
Oct  6 15:40:49 server1 systemd: Reloading.
Oct  6 15:40:55 server1 yum[1003]: Erased: nethserver-spamd-1.0.1-1.ns7.noarch
Oct  6 15:45:01 server1 systemd: Started Session 15521 of user root.
Oct  6 15:45:01 server1 systemd: Starting Session 15521 of user root.
Oct  6 15:45:01 server1 systemd: Started Session 15520 of user root.
Oct  6 15:45:01 server1 systemd: Starting Session 15520 of user root.
Oct  6 15:45:01 server1 systemd: Started Session 15522 of user root.
Oct  6 15:45:01 server1 systemd: Starting Session 15522 of user root.
Oct  6 15:45:01 server1 systemd: Started Session 15519 of user root.
Oct  6 15:45:01 server1 systemd: Starting Session 15519 of user root.
Oct  6 15:45:01 server1 systemd: Started Session 15523 of user root.
Oct  6 15:45:01 server1 systemd: Starting Session 15523 of user root.
Oct  6 15:45:01 server1 systemd: Started Session 15524 of user root.
Oct  6 15:45:01 server1 systemd: Starting Session 15524 of user root.
Oct  6 15:45:01 server1 systemd: Started Session 15525 of user root.
Oct  6 15:45:01 server1 systemd: Starting Session 15525 of user root.
Oct  6 15:45:01 server1 systemd: Started Session 15527 of user root.
Oct  6 15:45:01 server1 systemd: Starting Session 15527 of user root.
Oct  6 15:45:01 server1 systemd: Started Session 15526 of user root.
Oct  6 15:45:01 server1 systemd: Starting Session 15526 of user root.
Oct  6 15:45:02 server1 esmith::event[1932]: Event: nethserver-mail-filter-save
Oct  6 15:45:02 server1 esmith::event[1932]: expanding /var/lib/nethserver/sieve-scripts/before.sieve
Oct  6 15:45:02 server1 dbus[894]: [system] Activating via systemd: service name='org.freedesktop.timedate1' unit='dbus-org.freedesktop.timedate1.service'
Oct  6 15:45:02 server1 systemd: Starting Time & Date Service...
Oct  6 15:45:02 server1 dbus[894]: [system] Successfully activated service 'org.freedesktop.timedate1'
Oct  6 15:45:03 server1 systemd: Started Time & Date Service.
Oct  6 15:45:03 server1 esmith::event[1932]: expanding /etc/dnsmasq.conf
Oct  6 15:45:03 server1 esmith::event[1932]: expanding /etc/rspamd/whitelist_to_domains.map
Oct  6 15:45:03 server1 esmith::event[1932]: expanding /etc/rspamd/whitelist_from.map
Oct  6 15:45:03 server1 esmith::event[1932]: expanding /etc/rspamd/rspamd.conf
Oct  6 15:45:03 server1 esmith::event[1932]: WARNING in /etc/e-smith/templates//etc/rspamd/rspamd.conf/20Options: Use of uninitialized value $esmith::__TEMPLATE__::5::rspamd{"SpamCheckStatus"} in string eq at /etc/e-smith/templates//etc/rspamd/rspamd.conf/20Options line 10.
Oct  6 15:45:03 server1 esmith::event[1932]: WARNING: Template processing succeeded for //etc/rspamd/rspamd.conf: 1 fragment generated warnings
Oct  6 15:45:03 server1 esmith::event[1932]: at /etc/e-smith/events/actions/generic_template_expand line 64.
Oct  6 15:45:03 server1 esmith::event[1932]: expanding /etc/rspamd/whitelist_to.map
Oct  6 15:45:03 server1 esmith::event[1932]: expanding /etc/rspamd/blacklist_from_domains.map
Oct  6 15:45:03 server1 esmith::event[1932]: expanding /etc/rspamd/whitelist_from_domains.map
Oct  6 15:45:03 server1 esmith::event[1932]: expanding /etc/rspamd/forbidden_file_extension.map
Oct  6 15:45:03 server1 esmith::event[1932]: WARNING in /etc/e-smith/templates//etc/rspamd/forbidden_file_extension.map/10base: Use of uninitialized value $esmith::__TEMPLATE__::9::rspamd{"BlockAttachmentStatus"} in string eq at /etc/e-smith/templates//etc/rspamd/forbidden_file_extension.map/10base line 5.
Oct  6 15:45:03 server1 esmith::event[1932]: WARNING: Template processing succeeded for //etc/rspamd/forbidden_file_extension.map: 1 fragment generated warnings
Oct  6 15:45:03 server1 esmith::event[1932]: at /etc/e-smith/events/actions/generic_template_expand line 64.
Oct  6 15:45:03 server1 esmith::event[1932]: expanding /etc/rspamd/blacklist_from.map
Oct  6 15:45:03 server1 esmith::event[1932]: expanding /etc/rspamd/rspamd.conf.override
Oct  6 15:45:04 server1 esmith::event[1932]: expanding /etc/rspamd/override.d/metrics.conf
Oct  6 15:45:04 server1 esmith::event[1932]: expanding /etc/rspamd/local.d/greylist.conf
Oct  6 15:45:04 server1 esmith::event[1932]: expanding /etc/rspamd/local.d/multimap.conf
Oct  6 15:45:04 server1 esmith::event[1932]: WARNING in /etc/e-smith/templates//etc/rspamd/local.d/multimap.conf/10base: Use of uninitialized value $esmith::__TEMPLATE__::13::rspamd{"SpamCheckStatus"} in string eq at /etc/e-smith/templates//etc/rspamd/local.d/multimap.conf/10base line 4.
Oct  6 15:45:04 server1 esmith::event[1932]: WARNING in /etc/e-smith/templates//etc/rspamd/local.d/multimap.conf/10base: Use of uninitialized value $esmith::__TEMPLATE__::13::rspamd{"BlockAttachmentStatus"} in string eq at /etc/e-smith/templates//etc/rspamd/local.d/multimap.conf/10base line 88.
Oct  6 15:45:04 server1 esmith::event[1932]: WARNING: Template processing succeeded for //etc/rspamd/local.d/multimap.conf: 2 fragments generated warnings
Oct  6 15:45:04 server1 esmith::event[1932]: at /etc/e-smith/events/actions/generic_template_expand line 64.
Oct  6 15:45:04 server1 esmith::event[1932]: expanding /etc/rspamd/local.d/antivirus.conf
Oct  6 15:45:04 server1 esmith::event[1932]: expanding /etc/rspamd/local.d/actions.conf
Oct  6 15:45:04 server1 esmith::event[1932]: WARNING in /etc/e-smith/templates//etc/rspamd/local.d/actions.conf/10base: Use of uninitialized value $esmith::__TEMPLATE__::15::rspamd{"SpamSubjectPrefixString"} in concatenation (.) or string at /etc/e-smith/templates//etc/rspamd/local.d/actions.conf/10base line 13.
Oct  6 15:45:04 server1 esmith::event[1932]: WARNING: Template processing succeeded for //etc/rspamd/local.d/actions.conf: 1 fragment generated warnings
Oct  6 15:45:04 server1 esmith::event[1932]: at /etc/e-smith/events/actions/generic_template_expand line 64.
Oct  6 15:45:04 server1 esmith::event[1932]: expanding /etc/postfix/main.cf
Oct  6 15:45:04 server1 esmith::event[1932]: WARNING in /etc/e-smith/templates//etc/postfix/main.cf/01dkim_milter: Use of uninitialized value $esmith::__TEMPLATE__::16::opendkim{"status"} in string eq at /etc/e-smith/templates//etc/postfix/main.cf/01dkim_milter line 6.
Oct  6 15:45:04 server1 esmith::event[1932]: WARNING in /etc/e-smith/templates//etc/postfix/main.cf/01template_vars_milter_mail_macros_rspamd: Use of uninitialized value $esmith::__TEMPLATE__::16::rspamd{"status"} in string eq at /etc/e-smith/templates//etc/postfix/main.cf/01template_vars_milter_mail_macros_rspamd line 4.
Oct  6 15:45:04 server1 esmith::event[1932]: WARNING in /etc/e-smith/templates//etc/postfix/main.cf/01template_vars_rspamd: Use of uninitialized value $esmith::__TEMPLATE__::16::rspamd{"status"} in string eq at /etc/e-smith/templates//etc/postfix/main.cf/01template_vars_rspamd line 5.
Oct  6 15:45:04 server1 esmith::event[1932]: WARNING: Template processing succeeded for //etc/postfix/main.cf: 3 fragments generated warnings
Oct  6 15:45:04 server1 esmith::event[1932]: at /etc/e-smith/events/actions/generic_template_expand line 64.
Oct  6 15:45:04 server1 esmith::event[1932]: expanding /etc/postfix/sender_access
Oct  6 15:45:04 server1 esmith::event[1932]: WARNING in /etc/e-smith/templates//etc/postfix/sender_access/10sender_wbl: Use of uninitialized value in split at /etc/e-smith/templates//etc/postfix/sender_access/10sender_wbl line 7.
Oct  6 15:45:04 server1 esmith::event[1932]: WARNING in /etc/e-smith/templates//etc/postfix/sender_access/10sender_wbl: Use of uninitialized value in split at /etc/e-smith/templates//etc/postfix/sender_access/10sender_wbl line 8.
Oct  6 15:45:04 server1 esmith::event[1932]: WARNING: Template processing succeeded for //etc/postfix/sender_access: 2 fragments generated warnings
Oct  6 15:45:04 server1 esmith::event[1932]: at /etc/e-smith/events/actions/generic_template_expand line 64.
Oct  6 15:45:04 server1 esmith::event[1932]: expanding /etc/pam.d/rspamd
Oct  6 15:45:04 server1 esmith::event[1932]: Action: /etc/e-smith/events/actions/generic_template_expand SUCCESS [1.598786]
Oct  6 15:45:08 server1 esmith::event[1932]: Action: /etc/e-smith/events/nethserver-mail-filter-save/S10nethserver-mail-postmap-update SUCCESS [4.009232]
Oct  6 15:45:08 server1 esmith::event[1932]: [INFO] service rspamd is not configured: skipped
Oct  6 15:45:08 server1 systemd: Reloading.
Oct  6 15:45:08 server1 esmith::event[1932]: [INFO] service postfix reload
Oct  6 15:45:09 server1 postfix: /usr/sbin/postconf: warning: /etc/postfix/main.cf: unused parameter: submission_smtpd_milters=
Oct  6 15:45:11 server1 systemd: Reloaded Postfix Mail Transport Agent.
Oct  6 15:45:11 server1 systemd: Reloading.
Oct  6 15:45:11 server1 esmith::event[1932]: [INFO] service httpd-admin reload
Oct  6 15:45:13 server1 systemd: Reloaded Server Manager UI httpd instance.
Oct  6 15:45:13 server1 esmith::event[1932]: Action: /etc/e-smith/events/actions/adjust-services SUCCESS [5.345969]
Oct  6 15:45:13 server1 esmith::event[1932]: Event: nethserver-mail-filter-save SUCCESS