Environment:
2 Proxmox VMs on 2 Proxmox nodes for the NS8 nodes
2 NS8 nodes with Debian 11.7.0 installed from ISO
1 NS7 Proxmox VM with ejabberd, mail, file server, mattermost and roundcube webmail
General:
Migrating directly to node2 didn't work, the apps were always on node1
Moving them to another node afterwards works
If you move an app to another node you need to change the DNS entry to the right IP of the new node
Migration:
Mattermost

Mail Migration included Roundcube and Webtop.
Roundcube

Roundcubemail-next isn't working because the migration searches for the database in mysql 5 and fails
the old LTS version works
no contacts in addressbook before migration of local AD, maybe issues with remote AD?
Mail send/receive worked
Webtop

The Webtop path is still there, like https://webtop.domain.tld/webtop
Ejabberd


Active Directory


File server

it seems the old one wasn't migrated, I don't have the "File Server" option in the migrated account provider
Creating a new account provider with "Provide file shares and authentication to Windows clients" enabled worked
Dokuwiki

I forgot dokuwiki so I installed it on NS7, removed the account provider on NS7 but it's not shown in the migration list. Mail was already migrated but the "Start/skip migration" buttons are still shown.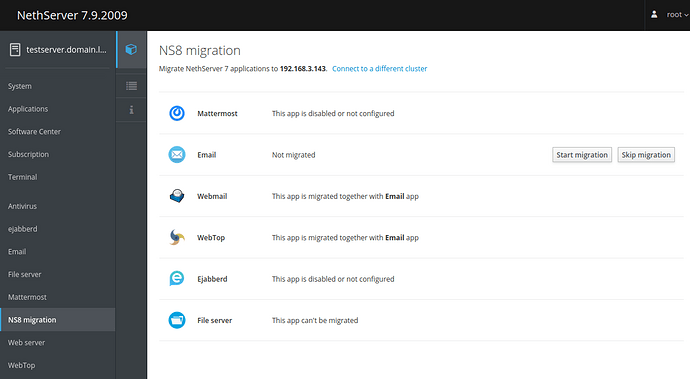 Backup

Backup to B2 worked, at least I can see the files in the bucket.