Yes. so I prefer NethServer. Endian DHCP option gives orange areas for blue DMZ.
But my option is NethServer.
Do you think that DHCP on orange could be useful?
Hi everybody!
Thanks Alessio, but I do not consider myself an expert although I would like to be.
I'm just a technician with some experience, open-minded, try to be in step with the technique, and read quite a lot of technical documentation (the more I read, the more I realize how little I know).
I agree with Jose and Filippo: IMO, DMZ is a special area, access is dedicated, and DHCP has no reason to be here. Personally, I shall use DHCP only for the BLUE (Wireless for Guest).
Here is a picture of Endian DHCP: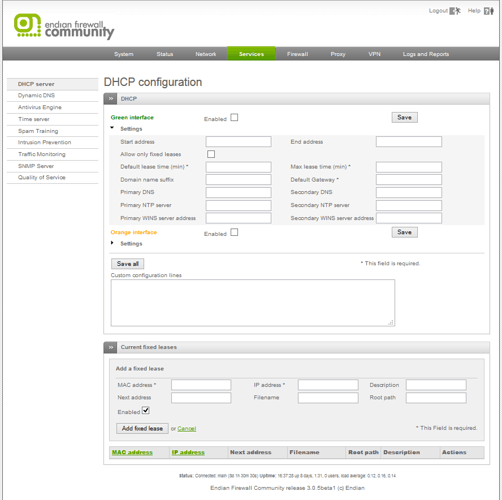 Ehi @GG_jr thanks for your reply, any other insights to add about the topic?
i'm not of the same idea, sometimes dhcp could be useful also on orange. ie it could be used to have a tftp server on dmz to deploy new server, or when restoring template of vm, or if i connect a new appliance on dmz i could simply connect the cable , verify the ip and then configure it.
honestly, i can live without this option, but if it's not too hard to develop… why not? maybe could be useful to someone…
I know there are many pros and cons, but sincerely I don't know how to start because I still believe that is a different approach in the development and use of the two products, even if most of the modules have the same functionality.
However, together I think we can make a good comparison.
At this point I know what I need and is missing from the two products (community versions): Reverse Proxy.
I know that I'm not the only one that needs this:
I agree with you and probably thought so and those who implemented it in ORANGE
As I said, I consider myself open minded and I'm not categorically against.
I'd say that make a comparison between a multi purpose distro and a specialized one makes no sense, it's like comparing pears and apples…

It's not completly right, you can compare just the NethServer firewall UTM part that is quite complete. A lot of people are moving from endian to NethServer and a comparison like this could be really helpful. For this reason I need some insights from expert folk here since I know endian very little.
Hello everybody,
I think that to compare the two products will be necessary a huge effort.
IMO, at least the following must be considered:
HW requirements: less - same - more
The installation: easier - same - harder
The configuration of the modules (packages): easier - same - harder
The efficiency of the modules: less - same - better
Highlights / Other features
Despite the above said opinions, because I had already installed NethServer, I have build a "Real Network" at my home (please see "NS-UTM" attached picture). For now, I don't have dedicated servers for ORANGE but I'll find something (probably I'll use my laptop as "Joker" to simulate an e-mail server and a web server).
I configured NS to act as UTM (at the office I have Endian Firewall Community 3.0.5. Beta1 in production), so I have installed only necessary packages for this role (please see "Installed Packages" attached picture).
First, I checked the Internet access from GREEN and BLUE (and ORANGE) without "Web proxy" and "Web content filter" activated. Worked (that means that "the basic chain - HW/SW" was configured properly).
After that, I activated "Web proxy" in "Transparent mode" and "Transparent with SSL".
(Depending on the used browser, there are a lot of issues! I think we need a dedicated post for this!)
So far so good!
And then, I had enabled "Block HTTP and HTTPS ports". After I pressed "SUBMIT" button, I received an error message at the end of the task (For this error I opened a new post: "PPPoE and Web proxy issues". Please go there and let's try to fix this issue. If it's really an issue and not my mistake - [SOLVED] PPPoE and Web proxy issues).
Note: the problem was solved by Nas. Thank you Nas!
For the moment I will stop here with the comparison (anyway, till now I did not compared anything).
I wish to know your opinion about all that I said above. It worth to continue?
Thank you in advance!
Kind regards,
Gabriel
I'm sorry but I disagree…
Comparing two different distro, each one aiming to do something in a different way than the other, based on different core (centos, debian), installed on different hw, in different environment and without any kind of comparison protocol (an objective one) is useless and sounds like a distro war done by kids playing.
And I can affirm that because I saw many, way too many 3ads like this in the last 20 years.
In any case, feel free to do as many comparison as you prefer, it's (also) quite funny…

Why not? I do like this list, can you explain your point of view about these points?
Ehi man, nice pic! Just share it by twitter

Hi Alessio,
Beginning from tomorrow, I will try to do something like this:
At the office I have in production Endian Firewall Community 3.0.5 Beta1 installed on an IBM xSeries 346 (2 x HDD RAID 1, 4 GB RAM).
I have another IBM xSeries 346 ( 2 x HDD RAID 1, 2 GB RAM) which I will install NS 6.7 Beta 1 from ISO, configured as UTM.
Then, I will try to compare how much I will be able.
Hi Filippo,
Which version of NS has this module?
I use now NS 6.7 and I don't see this (If I remember right, neither in version 6.6).
I have configured NICs for RED, GREEN and ORANGE and in DHCP module can be enabled only for GREEN (eth0 - green) and only for IP range start -> IP range end, without Advanced options.
I understand that if I don't have BLUE interface, there is no DHCP for BLUE.
Did I miss something?
Thank you in advance,
Gabriel
That's strange please open a new topic about it, keeping this topic clean (Reply as linked topic on the right)