1511 is better, try to use it as described in the document.

It's rather puzzling, I can't reproduce that "Cannot open: …nethserver-release-7-0.1.11.g66e6835.ns7.noarch.rpm. Skipping."
Moreover wget downloads the RPM, so I suppose your network works properly.
I'd try "localinstall" from the downloaded RPM in /tmp, like
yum localinstall /tmp/nethserver-release-7-0.1.11.g66e6835.ns7.noarch.rpm
All I can say is… pretty!
You can now start/stop/restart services from the web interface. What do you think @Ctek?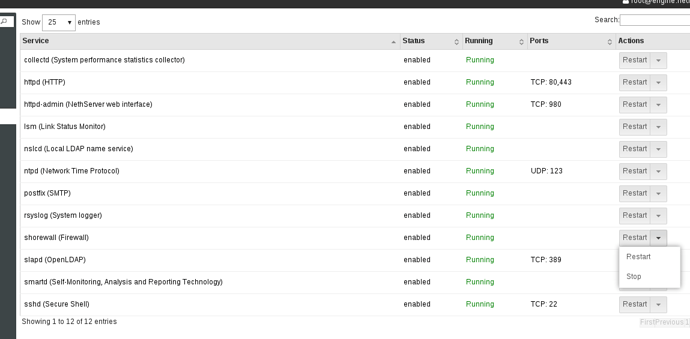 Pretty nice integrated graphs. @Jim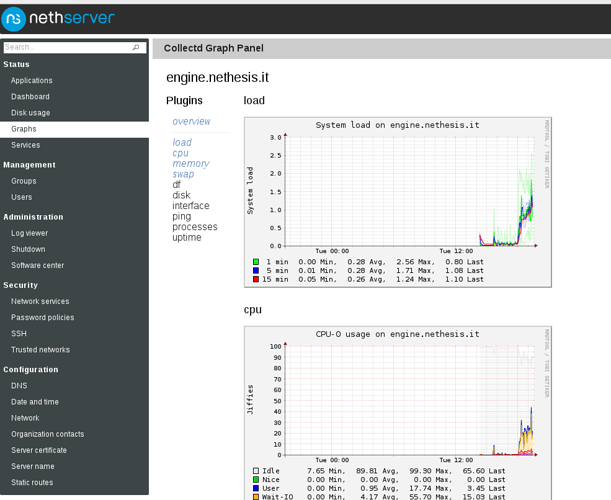 Edit: Also, graphs are directly accessible from port 980, you don't need anymore to forward port 80.
Yeahh! Can we close these discussions?

This day is a really good day


.
Someone can mark this date in the NethServer history
Don't close these discussions… We must celebrate

Interesting , really interesting @giacomo, I searched recently how to embed a page on port 80 into the server-manager, I have now a solution to my issue…fine

This can bring idea for phpMyAdmin by example
Yes, a well polished interface mean a good feeling, a impressive good experience for the end user.
It's really important, to spread the world
Really like it! Thanx guys!
This "small" features are improving our life every day

In this case CGP is running on port 80 but it's only accessible from localhost, the server-manager uses a simple proxy pass (yet I lost half an hour to make it work, than @filippo_carletti came to rescue me

).
upgrading from
nethserver-base-2.9.5-1.15.ge2b347a
to
nethserver-base-2.9.5-1.48.ga72985b or later
give me " invalid credentials" when accessing from webUI with root user, no probs from console… i'll do some other test in the afternoon…
Quick solution:
rm -f /etc/sudoers
yum reinstall sudo
I just want to hilight on thing: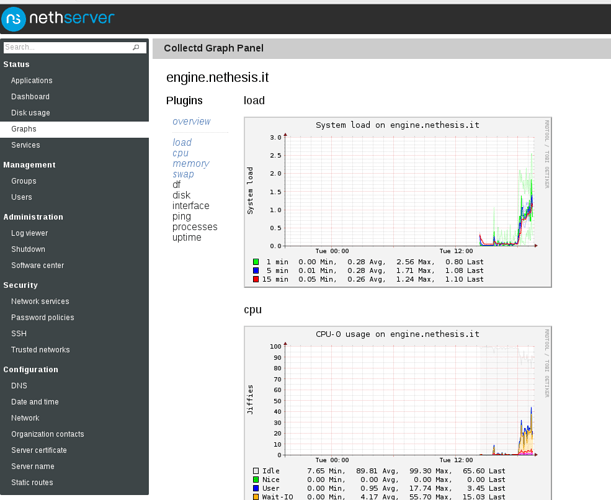 In this screenshot, I see in the Left menu Status/Applications

Can you put this "applications" in the Administration menu? And perhaps rename it in "tools", because these tools are for administrate the server…
The "status" menu is for … Status

Sounds good to me. Any other thought? (/cc @filippo_carletti @davidep)
I not agree on this, since the "Applications" page contains also link to end-user web applications like Roundcube.
In fact, all listed applications are web applications

Some time ago, @edoardo_spadoni, @Stll0 and @nethcman did a good work on refactoring Lightsquid interface.
Now, we decided to release this part to the Community: the code is now merged into main nethserver-lightsquid repository.
Also Lightsquid has been integrated insidet the Server Manager: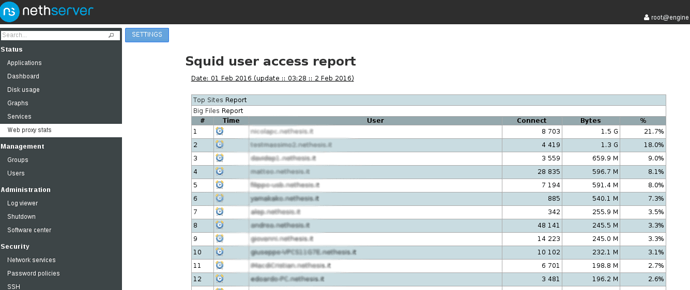 As a side note, I would like to point out that these applications run inside the default httpd instance with unprivileged user.
Even if it is possible to run Lightsquid, CGP, etc inside the httpd-admin apache instance, this is not a good practice since httpd-admin runs with a more privileged user.
The last application integrated is Samba Audit.
Please note the new "Report" section, also "Applications" have been moved under "Administration" section.
Next step lestencrypt

while Davide and Filippo are finishing up the L2TP service.
After, alpha 2 release should be ready.
wow cool, tnx dev team! a lot of good news…
but this is a side effects of belgian beers? or was the chocolate or what? just to know

Beer, of course! Always beer!