@dnutan posted a $15 bounty 2 days ago on this module. Who else wants to contribute?
@stephdl would you like to set a goal in case the bounty is too low for you?
Whoo-hoo! Great shoot!
The bounty on "Fail2ban package [$35]" has increased to $40 @StreetGuru increased the bounty by $5. The bounty will be awarded to the developer who successfully closes out this issue.
The work is done on my side, I pushed to nethforge-testing the rpms that you could find on my download folder. I plan to remove them once the work is validated by testers here. Nethserver-delegated-panel and nethserver-rh-mysl56 are not ready yet to be pushed.
I'm quite busy ATM, and ready to go to andalucia for three weeks, so I won't be easily reachable. The best is that once you will validate the work, then you should push the rpms yourself to nethforge.
@+
I have it installed in NS6.8 and it works like a charm - always nice to receive the occasional mail telling me some ip just got banned

I've tried installing in NS7b with the same command i installed in NS6:
yum install http://mirror.de-labrusse.fr/nethserver/nethserver-fail2ban/nethserver-fail2ban-0.0.7-1.ns6.sdl.noarch.rpm --enablerepo=epel
but I get an error:
Transaction check error:
      file /usr/bin from install of nethserver-fail2ban-0.0.7-1.ns6.sdl.noarch conflicts with file from package filesystem-3.2-20.el7.x86_64

When I try to install from nethforge-testing with
yum install nethserver-ddclient --enablerepo=nethforge-testing
it tells me
No package nethserver-ddclient available
Is there any way to get it running in NS7 at the moment?
Thanks
Both packages need to be rebuilt for NethServer 7.
Would you like to try?
Edit: I'm sure fail2ban would need to be modified to analyze logs produced by CentOS7.
I think I cant use this forum, it gets too confusing sometimes - how do you quote the post above?
anyway, and again:
Sure i would like to try - though I will need a lot of guidance!
I highlight the text, then a context menu appears with quote reply.
gotcha!
edit: lol, a plus side is that i just won "My First Quote"

It would be awesome, who wants to give it a try?
Does any fail2ban users here have a hostname of vanharen-002.nxs.nl for the internet connection?
Thank you so much, you saved my day

I just installed and configured without issues F2B for NS7 from @stephdl repository!
The stephdl repository is opened
Thank you Stephane!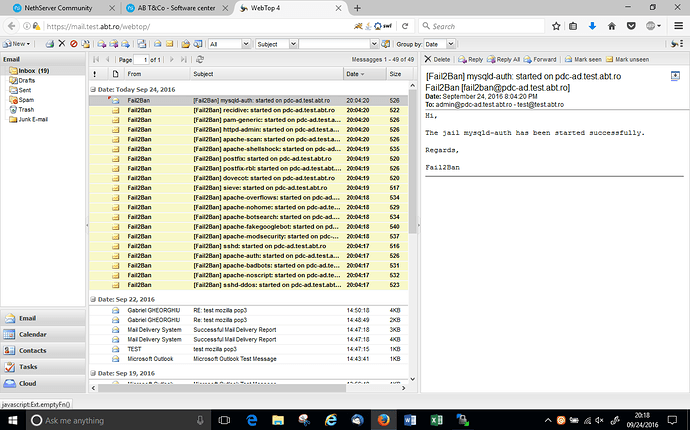 @stephdl I'd like to move this great rpm on NethForge! So you can earn some money for your work and the community has a great new module in his pocket!