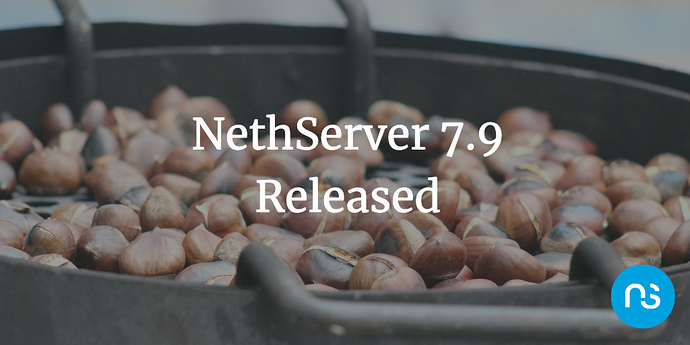 We're happy to announce that NethServer 7.9 is publicly available.
What's new?
This release marks a big step forward for communication, collaboration and security, introducing:
CentOS 7.9
NethGui is dead. Welcome Cockpit!
Some web applications are still available on port 980
Security improvements
Threat shield: DNS blacklist
Netdata is now installed by default
New panel to sync your email via IMAP
About NethServer
NethServer is an Open Source operating system designed for small offices, medium enterprises and home server. It's simple, secure and flexible.
NethServer is ready to deliver your messages, to protect your network with the built-in firewall, share your files and much more, everything on one system.
Release highlights
Many new features were added since the last NethServer ISO was released, they are all available within NethServer 7.9 based. Let's see the most important improvements.
NethGUI is dead. Welcome Cockpit
The old Server Manager (namely Nethgui) is not available by default on new installations. To configure the system access the new Server Manager on port 9090 . Old Server Manager can be still installed from Software Center.
Web applications are still on port 980
CGP (Collectd Graph Panel), EveBox, Rspamd UI, Lightsquid and Ntopng are still available on HTTPS port 980, even if the old Server Manager has not been installed.
Security improvements
On new installations, SSH weak ciphers are now disabled by default.
Default TLS policy is 2020-05-10 . TLS 1.1, TLS 1.0, SSL v3, and SSL v2 are disabled.
Threat shield: DNS blacklist
Threat Shield already protects your NethServer by blocking all connections from/towards malicious IP addresses. Now on you can add an extra layer of protection by blocking DNS requests to malicious domains. More info here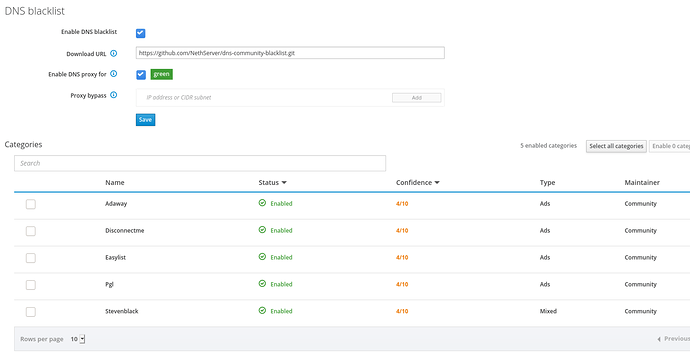 Netdata is now installed by default
Cockpit uses netdata to show some graphs on various dashboards:
web proxy (squid)
email server (postfix)
firewall (network, qos, conntrack)
New panel to sync your email via IMAP
New panel to simplify the migration of email from your existing mailserver to nethserver. The module is based on the command line tool imapsync and made it even easier.

Disable SIP-ALG to enhance SIP call through the firewall
In some situations you could have several issues with Shorewall and the protocol SIP&H323
Now you can disable SIP-ALG via WebUI
NtopNG 4.2
New cockpit settings page and dashboard

Last versions of our applications
Nextcloud 20.0.1
Rspamd-2.5
Asterisk to 13.37.1
Nextcloud updates
New installations of Nextcloud honor the StartTLS setting of the Active Directory accounts provider.
Other improvements
On new installations, users belonging to the wheel group are now granted SSH and SFTP access.
Mattermost DB was upgraded to PostgreSQL 12.
DAHDI tools and kernel module are no longer installed by default as part of nethserver-freepbx package.
New or updated Community Modules
A very long list since the last release. Big thanks to @stephdl and @mrmarkuz
Download and install
Who wouldn't desire all these fantastic new features?
You can install NethServer on a virtual machine or on a bare-metal server using a DVD or USB stick
Upgrade from 7.x is supported through the Software Center starting from 2020-12-02
Automatic upgrades to 7.9 for #

subscription

start from 2020-12-09
Ready to check it out? Then head to the docs and download
https://www.nethserver.org/getting-started-with-nethserver/


Subscription
Get exclusive access to the Stable Updates repository, monitoring tools and immediate professional support services for your NethServer deployments


Take a look at our plans
https://my.nethserver.com/
Documentation
Did you find a bug? Please report it here – every bug you uncover is a chance to improve the experience for thousands of NethServer users worldwide, also our amazing beta testers team will be called upon to give its support on that!
Thank You
A huge thanks to the community, we quite literally could not do this without your support , and we're proud to give our open source code back to the world with your help.