Thank you for this great software!! You deserve a gold-

!
First thing: Thank you!
After update/upgrade, the dashboard shows 7.6.1810 (final)
And I got this warnings during the process:
warning: /etc/krb5.conf created as /etc/krb5.conf.rpmnew
warning: /etc/shadow created as /etc/shadow.rpmnew
warning: /etc/shells created as /etc/shells.rpmnew
Need to be concerned about those warnings?
And why I don't see the new GUI (Cockpit)?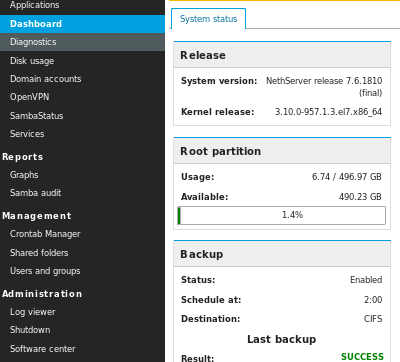 How to contribute
As a user , play with the new interface, find common usage scenarios, ask for new features, share your thoughts!
To install:
yum install nethserver-cockpit

or via Software Center clicking on
New Server Manager (Alpha)
Then, you can access the web interface: https://<your_server>:9090
As a developer , read the brand new developer guide for the web interface: https://nethserver.github.io/nethserver-cockpit
You need to know only some HTML, CSS and Javascript basics!
Get your hands dirty:
try to improve an existing page
create a new page (@edoardo_spadoni a wonderful tool to scaffold a whole new module)
port an old module to the new interface
As Federico said it's still alpha you have to install it manually
@federico.ballarini , Thank you.
I will wait a little longer.
Currently this server is in production


as an AD with some samba shares.
(fingers crossed) At this moment I *don't want to use any option that I don't need, this *server needs to work for life.
I need to research about the subscriptions. (need to deploy another server in a branch location)
Please note that simply installing cockpit will not modify the system configuration.
Using cockpit to change some settings may incorrectly change the configuration (in case of a bug) but you could easily fix a problem using the classic NethGUI server-manager.
WOW Christmas Day!!! Love NethServer!
Feel free to ask whatever you need
What a f**ing nice interface, incredibly fast … wow thanks for that present right for X-Mas.
Congratulations to everyone for making the nethserver so great.
Thank you and Congratulation in the New Release ! Merry Christmas and a Blessed New Year to the Nethserver Community ! Cheers…
Can I change the port 9090? I already use a service on this port
Yes, haven't tried but it should be possible with:
config setprop cockpit.socket TCPPort 9090
signal-event nethserver-cockpit-update
I Think that @dnutan solution is correct. It doesn't work try also
config setprop cockpit.socket TCPPort <new port>
signal-event firewall-adjust
signal-event nethserver-cockpit-update
Is this already available? Can't find it.
Yes, the TLS policy is in the web UI under "Security".
I found the TLS policy, but that's not what I was looking for.
With TLS policy xxxx-xx-xx enabled the encryption of openvpn roadwarrior is still default, so old BCB.
ATM I'm working with a template custom to switch to a stronger cipher and TLS min 1.2.
I thought @giacomo is preparing dropdown-menus with the possibility to choose a digest, cipher and a min TLS Vers like is in the vpntummel-menu. Did I get that wrong?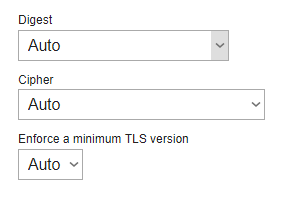 The latest TLS policy currently doesn't apply to new OpenVPN options.