Great news Davide. That's super!
I just hope that I'll find some time to finish the backup config module modifications

so that maybe it will be included into this release
Best regards
Bogdan
Hi to all!
Just upgraded!
The steps: http://1drv.ms/1JyeP4z
So far so good!
Gabriel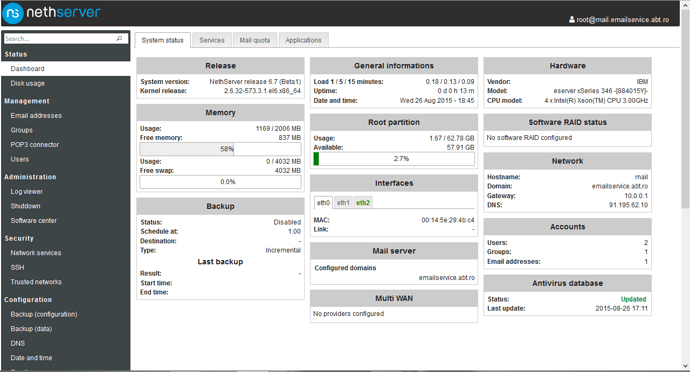 Up and running, about to start playing with it
First comment, everything wen smooth installed packages with no problems.
No adsl and osinventory yet on this version?
I tried updating but I have this error:
Errore: php56w-common conflicts with php-common-5.3.3-46.el6_6.x86_64
Si può provare ad usare --skip-broken per aggirare il problema
Provare ad eseguire: rpm -Va --nofiles --nodigest
Suggest?
php56w-common, where does it come from? SCL?
Remove/downgrade it, then try the update again.
Edit: @Provolino72, any update?
I do not have much time lately but …
installation on centos 6.7 minimal: work
upgrade to 6.7: works (tested only without no additional packages installed… i need some more time to make some more complex update testing)
all tests made on VM (KVM on proxmox)
That's a great news man! You're really a great tester!

Works fine (please see my post from above)
All modules works without problems, as you expected.
Also some special tests: installed / removed and reinstalled the same modules, installed different modules and removed.
All the tests were made on VM (VirtualBox on Ubuntu host), NS like UTM and also on dedicated server (IBM xSeries 346), NS like Email server.
Gabriel
You're ready for the testing team!!


Great work man!

Hi everybody,
I saw a difference between unattended ISO installation and upgrade of 6.6 to 6.7, following the NethServer 6.7 Beta release notes: Password policies (Security section) appear only with unattended ISO installation.
I don't know if is present with installation on CentOS 6.7 minimal, following the updated Admin's guide.
I didn't see this module in NethServer 6.6.
It's a bug or there are some differences between installation modes (?!)?
@davidep have answered you here:

please keep going on that topic
Just finished upgrading a 6.6 to 6.7 no issues weird thing is dasboard still shows 6.6 and /etc/centos-release shows 6.7
i have installed today nethserver 6.7 beta 1 with raid5 no problem found on this version for me
Thanks guys for your time! Great value here.
We must remove nethserver-password from the ISO group because it depends on nethserver-directory. It could be merged into nethserver-directory itself.