A big thank to all people I met, this was a huge and intense sharing moment…
Are you ready for The Cockpit?

yeah, it is one way we are studying
Happy to meet you there! I was very excited by your "teaching" session with @giacomo and @Ctek as well as our spare ribs dinner!
Sme 10 is going to Cockpit too !!!
Even if it was a joke from me, the correct answer is "maybe"
don't be modest zamboni, we release the RC tomorrow

Thanks to all guys, it a was very very pleasure time!

It was a pleasure to meet you @stephdl. I too had a great time at fosdem2016!
Hi guys, I have liked very much that I had the chance to meet you in person ( @alefattorini @giacomo @filippo_carletti @robb @stephdl @zamboni @All ) and to talk with you.
It was a great opportunity for sharing ideas / opinions and also a great chance to meet face to face and discuss over a beer

Realy liked very much seeing you and looking forward to another NS gathering.
Thank you all, #FOSDEM has been fun as every year. We shared ideas and confronted different points of view. I hope to meet you again soon.
I regret not having had enough time to talk about all I'd liked to.
I'd like to have a "stable" meeting point next year, it could be a stand in the K building or a room for some time to organize some lightning talk about NethServer.
Thanks to you all, I also enjoyed FOSDEM as usual and meeting people like NethServer developers and @Ctek, @robb and @stephdl had been a big pleasure for me (and I'm sure also for the rest of BgLUG). I see NethServer developers and people from the community are very passionate and this will surely drive NethServer to higher levels.
I'm a little disappointed that NethServer didn't had the place it deserves inside FOSDEM, let's hope for the next round that things will surely be better.
Again, thanks to all for the fine moments we shared, I appreciated it very much.
A little contribution: here's the "NethServer" table at the Cafeteria inside FOSDEM (thanks to Irene Bravo who did the panoramic shot).


Uh, and also this one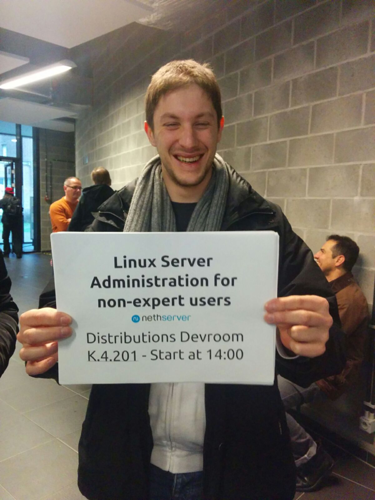 Yeah! I love the last one where @giacomo is my assistant

On the panoramic foto: WHAT HAPPENED TO MY EAR!!??!!!111