Hi out there,
I got a stupid question after setting up MX and similar stuff on my DNS:
Suppose the following:
Two people run a Nethserver instance. Both persons own an DNS (name-a.tld and name-b.tld) pointing correctly to their IP. Both are independent from each other and each creates a virtual mail domain (name-a.tld and name-b.tld) within the nethservers email module DNS. In short words: Each person A and B does have a valid E-Mail server vor his/her organisation (like mine :-))
Now person A creates an aditional email domain with name mx.name-b.tld while person B does the same vice versa. During setup, each person sets up the other persons as the relay server:
Example for Persona A: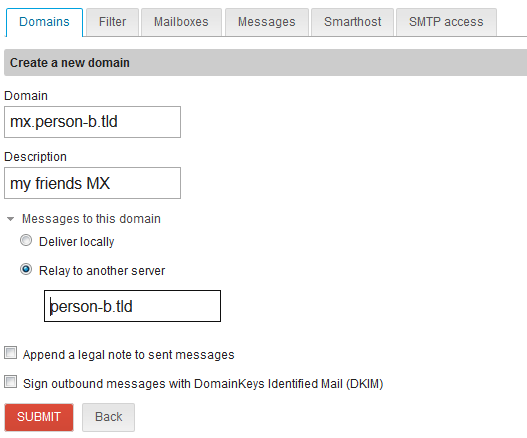 Now both set an MX Record pointing to the other IP / domain name with a priority value higher the own server.
MX Record of person A would point to mx.person-b.tld or in case of an A * Record just to person-b.tld. Would this be equivalent to an MX service?
THX for comments
Thorsten