This month, I'm proud to appoint
Artem Fedai @Nas
as Member of the Month (MoM) - September 2015
The support guy, the man from Ukraine. Do you have a problem? He's here for you, ALWAYS, you can call him day and night. He could give also you his cellphone, if you need it!


He also a Regular and Super Member
Thanks @Nas you're making this community a better place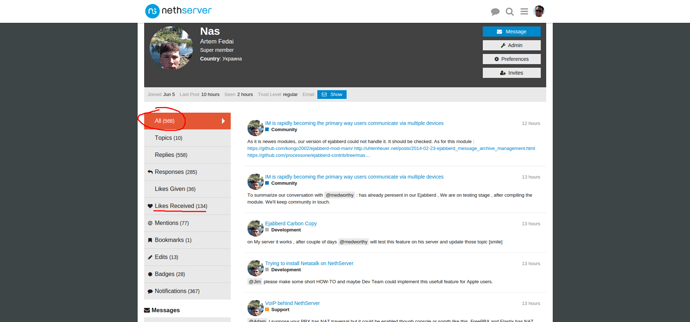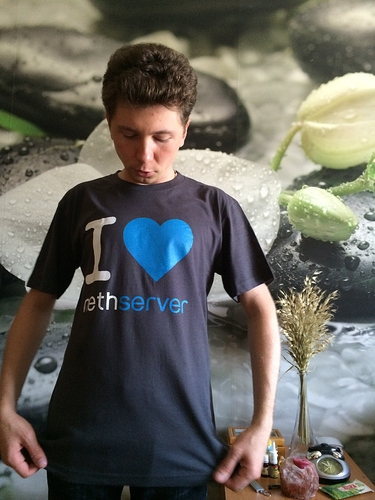 Ok, starting from the beginning. Who's Artem Fedai?
Hello to all community. My name is Artem Fedai and I'm from Ukraine. I'm 29 years old and 10 years of my life I dedicate to IT. At the beginning of my career, I was engaged in hardware repairing. I know almost all about hardware and like to solder. Later I began to be engaged in the sale of servers, it was turning point that plunged me into server OS (UNIX, Windows). So I have a great base of knowledge in server hardware

How do you have bumped into NethServer?
It was the second week of setting the server to the client, I was exhausted with Zentyal, from release to release it become more awful and awful, clients old HP DL-360G4 loaded about 15 min and nothing helped. So I began to dig the internet and found the treasure "NethServer", one of the disappointed thing was the lack of Asterisk, but I decided to try and I Love it. The server booted in one min with soft RAID and I said WOW.
What do you love about NethServer?
In NS I love the simplicity. I love that fact, that all base configuration can be made from WebUI and one of the most biggest advantages is that WebUI is separated from Apache web server.
What are your motivations? What has helped you most to be so interested and active? Why are you doing this and what push you to move forward?
My biggest motivation is to be useful to the community. What helped to me … Hmm I get pleasure from helping people and it helps me to develop myself, in order to a great variety of peoples Use Cases.
What do you think about NethServer Community? What could work better and what do you like more?
As for community I think it is awesome !!! One of the gorgeous things is that we have the opportunity to talk with Dev team directly. Another one it's our Hangout meeting, they give us an opportunity for sharing our opinion, improves our internal communication and to see people with whom you work and make a contribution for our great product. I appreciate being a part of that Great Team.
What can work better… I think only Swiss watch

But as for community Hangout with Dev Team and shared QA test cases would be very helpful for all. Even public QA or Dev Workshops may help the community for better understand the main points and further goals.
You're a Support Hero and Super Member any suggestions for people who ask help about NethServer?
I'm a simple guy , Super Member is only a badge. So do not hesitate to ask if my assistance is needed

One of the most useful tip for requesting help is to provide as more information as possible, even you could paint some stuff, if it is hard for you to explain.
If a member is too shy to post, what can you suggest him? How can he start to help the community and be involved?
Do not be shy, we all people. We were not born with knowledge of IT (Linux), just hard work and practice. As for a suggestion try to investigate as much as possible, and if the moment comes that you get stuck then ask for help. For NS WebUI maybe in Help section we should paste community link for more people to be involved!
Do you have any plans for the future? What do you like to do when you grow up?
I do not build long-term plans, it depends on county situation. But maybe will have a chance to visit Italy for vacation, be sure to drop by your place