Thank you for answer!
[root@mail ~]# config show loolwsd
loolwsd=service
    AllowWopiHost=
    VirtualHost=collabora.gtbs.ro
    status=enabled
[root@mail ~]# 
Sorry for late answer, I wasn't in front of a PC to check my settings…
If your Neth hostname is not the same as your public domain name, you need to set AllowWopiHost to the domain name you use in your browser to connect to Nextcloud.
config setprop loolwsd AllowWopiHost gtbs.ro
signal-event nethserver-collabora-update
If you use port forwarding to your Nextcloud instance, it may help to enable hairpin nat in the firewall settings if you're testing from internal LAN:

You may check /var/log/messages or /var/lib/nethserver/nextcloud/nextcloud.log for more detailed error messages.
Even after I made the settings for WopiHost, it didn't work.
Following your hint about the host name and the public domain name, I realized that I did not set an alias for collabora.gtbs.ro.
After I seted this alias, it's working!
Thank you for your help!
Kind regards,
Gabriel
I know why I forgot the alias!
The virtual host was created automatically by the nethserver-collaborate package during installation, but not the alias.
When you create a virtual host from GUI, the process create also the alias.
The Collabora integrated server is definitely easier to install and maintain (it is a web application self-contained inside NC) but lacks a lot of features (the most important one being sandboxing each open document).
I will say for "personal" use the NC/Collabora integrated one is sufficient. If you are part of a team using Collabora/LibreOffice Online for production and/or collaboration, I would continue recommending the great job of Markus

Thank you for the explanation of the differences between the two versions.
As you can see, I already use Markus's version, NS integration and Markus already helped me.
Indeed, great job of @mrmarkuz !
Nethserver: 7.8.
Modules: Webserver, Mail, NextCloud, Webtop5, Firewall, IPS, Thread Shield
I installed Collabora from Software center and get errors.
Current State: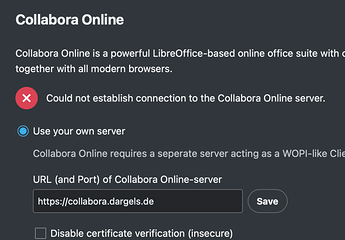 /var/log/httpd/ssl_access_log:
my.ip.here.194 - - [15/Nov/2020:18:32:49 +0100] "-" 408 -

where is the stumbling stone?
Best regards, Marko
It seems you defined collabora.dargels.de in the virtualhosts and in the loolwsd entry in config db. It's only needed in the loolwsd entry in the config db so please delete the vhost.
Thank you Markus, now it works.
I had already suspected it but was not sure.
Inside the Docu for Collabora Online (I know, that's not the CODE-Version) I found:
Collabora Online requires a dedicated virtual host and it's only accessible from HTTPS with a valid certificate.
Note: Collabora Online will not be enabled without a dedicated virtual host
I probably still had this in mind when I created the vhost.
Maybe you should put a note in the wiki to not create a dedicated vhost.
You can do it yourself too. That's why it's a wiki! The more people actively adding and updating the wiki the better. So please do so!
Good practice is to make a note about your changes/additions in the talk section when editing an existing article.
I did it.
Note : Please make sure that no dedicated vhost is set up for Collabora.